Imagine you are working on your system, doing some important task, updating or installing some driver and all of a sudden your computer screen turned blue with error message showing the bluescreen 0x000000d1 error code. Sounds irritating right?
Bluescreen 0x000000d1 error (or Bluescreen of Death Windows or STOP: 0x000000D1) is a driver associated problem in which some files get damaged triggering the system screen to turn blue with an error note which shows bluescreen 0x000000d1 error code.
This kind of error can occur on any windows version. Sometimes it occurs during windows startup process too, therefore making your system inaccessible. In all probability, it takes place when the recently installed driver or software begins behaving abruptly and an error message like "DRIVER_IRQL_NOT_LESS_OR_EQUAL" appears. This shows that the windows program has crashed or might shut down all of a sudden.
Causes of Error 0x000000d1
It's always good to have knowledge of the causes of the error you are facing, so let's have a brief look at what factors cause the error 0x000000d1.
– Some internal files of the system get corrupted.
– Incompatibility of the backup tool while upgrading of the system.
– Sometimes antivirus/security also causes an error.
– Install driver is corrupted.
– The driver was not installed properly.
– System service issue.
Now that we know the reasons that are responsible for the occurrence of Error 0x000000d1, let's focus on the methods that can troubleshoot the error.
Methods to troubleshoot Error 0x000000d1
Method 1: Use System File Checker Tool
Following are the steps to run the System fix checker tool (Windows 10):\
1. Open Start menu> type CMD or Command Prompt> right click to "run as administrator"> Enter password (If any)> Apply.
Now, next step is to run System Checker file.
2. To do that, please go for the following command and then Press enter sfc /scannow. Once you enter the Command, it will start scanning all the system files, check them, if it finds any corrupted one it will replace that corrupted file. Also, keep the Command Prompt Open till verification process gets completed.

Method 2: Fix Blue Screen Error by Restoring System
If the issue is due to the faulty driver, BIOS, system service issue, then you need to follow the mentioned steps
1. Restart System
2. You will see operating system choices, press F8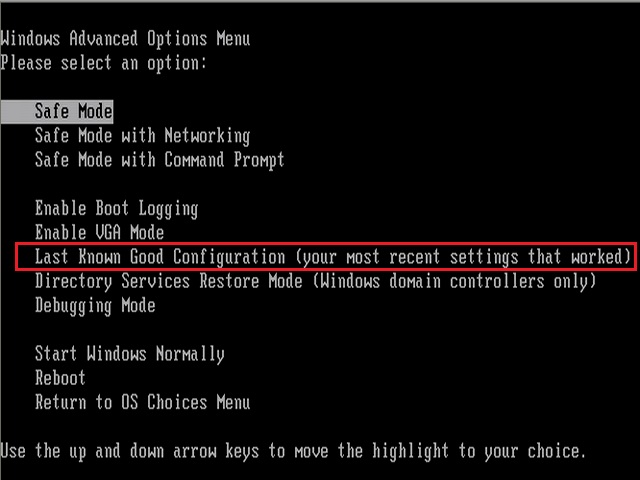 3. From Windows Advanced option Menu bar Choose "Last Known Good Configuration". (issue will get resolved if bluescreen 0x000000d1 error occurred due to single driver or service)