The error code 0x8004210A is typical POP3 (Post Office Protocol) server error which Outlook users experience. The error 0x8004210a in MS Outlook is common to versions 2016, 2013, 2010, and 2007. Outlook error 0x80042108 occurs when you try to send or receive email by using POP3. Outlook e-mail users are connected with numerous other users and servers with the definite arrangements of port numbers and protocols. Every Outlook e-mail user utilizes the Send/Receive operations to propagate the to-and-fro communication. Error 0x8004210A is displayed in the following manner on your PC: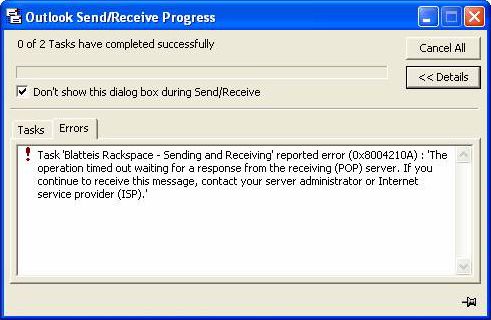 Task "servername.com-Receiving" reported error (0x8004210A): 'The operation timed out waiting for a response from the receiving (POP) server. If you continue to receive this message, contact your server administrator or Internet service provider (ISP).
Cause of Error 0x8004210A
Incorrect port number for incoming server.
Slow Connection to the mail server.
Firewall blocking the Outlook send/receive service.
Your being Emails being scanned and stopped by antivirus.
Large series of emails or large attachments.
Registry issues.
Fixing Error 0x8004210A
Method 1: Verify your Internet Connection
You need to check whether your computer is truly accessing the Internet or not. If the cause of the error is related to the internet connection then you need to free up your internet connection by closing any other online activities in progress or downloads being carried on your system.
Method 2: Increasing Server Timeout Period
For Microsoft Outlook 2003 & 2007 Go to Tools > Account Settings.
For MS-Outlook 2010 and 2013 Go to File > Info > Account Settings > Account Settings
Now, select the effected email account and click on Change.
Move the cursor toward More Settings option and open it.
In the Internet Email Settings pop-up window screen, switch to the Advanced tab and increase the server time out time according to our requirement.
After implementing server timeouts setting for your email account, finally click on Ok.
Method 3: Disable Antivirus
You will notice that antivirus interfering with outlook can also cause this error. Every time email is send or received the antivirus software will scan the email which will cause delay and even terminate the sending/receiving process. Disable your antivirus for some time until the operation is complete. Then enable it once the job is done.
Method 4: Disable Firewall
Likewise, if the Firewall program installed on your system is avoiding Outlook from reaching your mail sever, then just disable the Firewall to fix.
Method 5: Repair Outlook Program
Go to Control Panel and click uninstall programs.
In the following screen, pitch on Microsoft Office and click on Change
Finally in the new window, select repair and click Continue.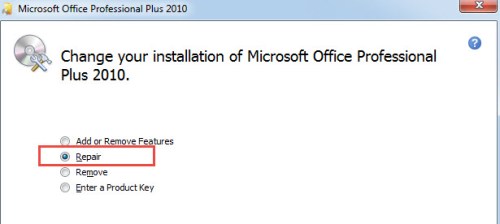 Method 6: Re-create your Email Account
Exit Outlook and go to Control Panel.
Then choose Mail
Next in the popup dialog, click Email Accounts.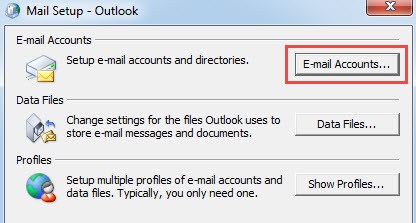 In the subsequent window, select the target account and click Remove.
Finally click Add and follow the instructions to re-add the email account.