There's no introduction needed as far as the game PlayerUnknown's Battleground or PUBG is concerned. The game has gained so much popularity in so less time and is now played by millions of gamers all around the world.
That being said, gamers should always be ready to face some of the challenges outside the battleground. And these challenges are lags, glitches and errors. Gamers from all around the world have reported some or the other lag that is becoming a barrier between them and PUBG. Let's have a look at the errors and what are their solutions that can fix these errors.
Before we head towards any solution, just make sure you fulfil the recommended or at least minimum specs required by the game. Below is the recommended specs requirement for PUBG:
Operating System: 64-bit Windows 10
Processor: AMD Ryzen 5-1600 / Intel Core i5-7600K
Memory: 16 GB RAM
Graphics: NVidia GTX 1060 6GB or better
DirectX: Version 11
Network: Broadband Internet connection
Storage: 30 GB available space
If you can upgrade your system to meet the recommended requirements of the game, it might be the easiest way possible to fix many lags and bugs. But if you've got these specs already, then go ahead and check out the solutions.
PUBG Lag Fixes
Here are some of the basic adjustments that might help fix the lags but this might not work for everyone.
Lower the game's resolution
Change fullscreen to windowed full screen
Close unused/background applications
Disable Game DVR
Repair your PC's registry
Update display and other drivers
In the NVidia control panel, manage 3D settings, set the "power management mode" to "prefer maximum performance." (For NVidia users only)
Try turning off shader cache in NVidia Control Panel. (For NVidia users only)
Set "High priority" to the game in Task Manager.
Set Power settings to "Maximum Performance"
Increase PC performance by disabling visual effects. To do this, navigate to the Control Panel and select "System and Security". After that, click on System and then select "Advanced system setting". From there, click on Settings under Performance and choose "Adjust for best performance". Apply and you're good to go.
PUBG Stuttering Fix
If you experience any stuttering issues in PUBG, then it is highly recommended that you change your paging file size. This stuttering fix might help some players with their PUBG lag.
Open file explorer.
Right-click on This PC and click Properties.
On the left-hand side of the window, click advanced system settings.
Click Settings under the performance tab.
Click on advanced and under virtual memory, click Change.
Ensure that Automatically manage paging file size for all drives is unticked
Lastly, check your hard drive. (If you have a spare SSD I highly recommend you ensure your page file is only on the SSD). Now make sure custom size is set, and at the bottom of the window, there should be a tab named Recommended. Change the initial value to what the recommended value is, as well as the maximum value.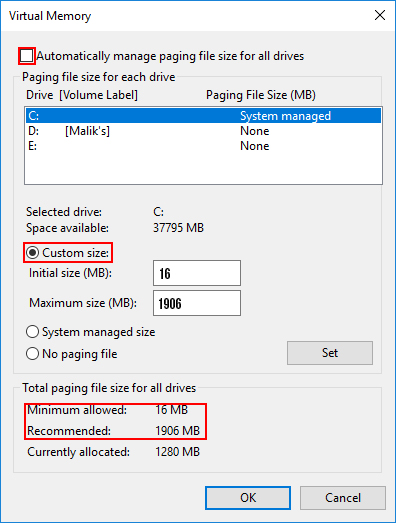 Lastly, hit Set then OK and finally, click on Apply button.
PUBG FPS Fix
If you are facing FPS drops in PlayerUnknown's Battlegrounds, here is something you can change to raise your FPS to a much more suitable level. This will help you with those FPS drops but be careful as changing the .ini files should be done by professionals.
Navigate to "C:\Users\<Your PC Name>\AppData\Local\TslGame\Saved\Config\WindowsNoEditor"
Open "Engine.ini"
Paste this code at the bottom on a separate line: FrameRateCap=0
Save the file
PUBG Server Lag
If the solutions till now didn't help you out and you're still in trouble, it might be the PUBG server lag that is putting you into trouble. Although there's nothing much to do about this lag and its fix since the servers are under the responsibility of the developers, you can make a couple of alterations to increase your ping and hence, lay waste to the PUBG server lag. This includes increasing your bandwidth, restricting internet access for others and using a wired connection.