0x000000f4 is a major error that influences computer function. The error takes place when a process important to computer function quits working. Thus, the cause can be anything varying from software to even hardware problems. To repair this error, users should examine if the hardware is connected appropriately or if the software application is not infected with malware.
Causes of Error 0x000000f4
Computer's OS is incorrectly installed/upgraded/updated.
Computer hard drive is corrupted.
Computer drivers are outdated/corrupted or updated wrongly.
How to Fix Error 0x000000f4?
Method 1: Remove Recently Installed Software Programs
The very first thing the user must think about when error code 0x000000f4 appears, is whether he or she installed any new, troublesome computer software application. If so, uninstall the program by accessing the Add/Remove Programs application located in the computer's Control Panel. This is accessed through the computer's Start or Settings menu. Third party applications frequently lead to an error code. If a new computer program is installed without the user's knowledge, update the antivirus application and run a full system scan to check for computer spyware or malware that might have been installed without authorization.
Method 2: Uninstall Antivirus Temporarily
This problem might also be triggered by your anti-virus software. Try to uninstall your antivirus software application, then reboot your computer to see if the blue screen is gone.
Re-install your antivirus software whether this method fix your problem or not.
Method 3: Check Your Disk
Type cmd in the search box from Start. Then right-click on Command Prompt and click Run as administrator.
Click Yes when prompted by User Account Control.
Type chkdsk /f and press Enter on your keyboard.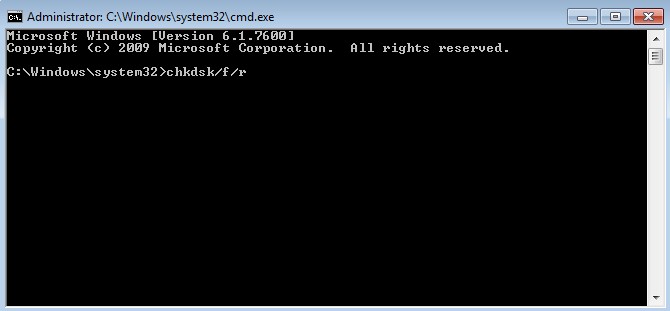 Follow the instructions to finish the checking task.
Restart your computer to see if the blue screen is gone.
Method 4: Update Recently Added Hardware Computer Drivers
If new devices or hardware has lately been installed on the computer, it is most likely that Windows upgraded the service pack or Operating System, which outdated the present computer hardware. Visit the hardware manufacturer's homepage and check for brand-new driver updates as this might be the cause behind the computer displaying error code 0x000000f4.
Method 5: Re-download and reinstall the computer drivers
Also re-download and reinstall the computer drivers to take chances. If you do find some new driver updates, also go update yours.
Method 6: Remove or reinstall running game/software/process
If your computer really gives BSOD error stop 0x000000f4 message while trying to open game/software/process, you can go reinstall or remove these games/apps/processes to fix such blue screen error code problems.
Method 7: Reinstall or Upgrade Computer Windows operating System Correctly
If you are sure such BSOD issues occur after you do have tried to install/upgrade/update the Windows OS, also go properly reinstall/upgrade/update the operating system to have another good shot. Always find and follow a step-by-step tutorial guide online this time.