Error 0x000000a5 is Stop error which is likewise described as Blue Screen of Death error. The 0x000000A5 error code appears mainly because of ACPI BIOS error. This error message on your computer screen shows that the Advanced Configuration and Power Interface (ACPI) BIOS of the computer system is not compatible with your Windows system and is not completely certified with the ACPI specifications.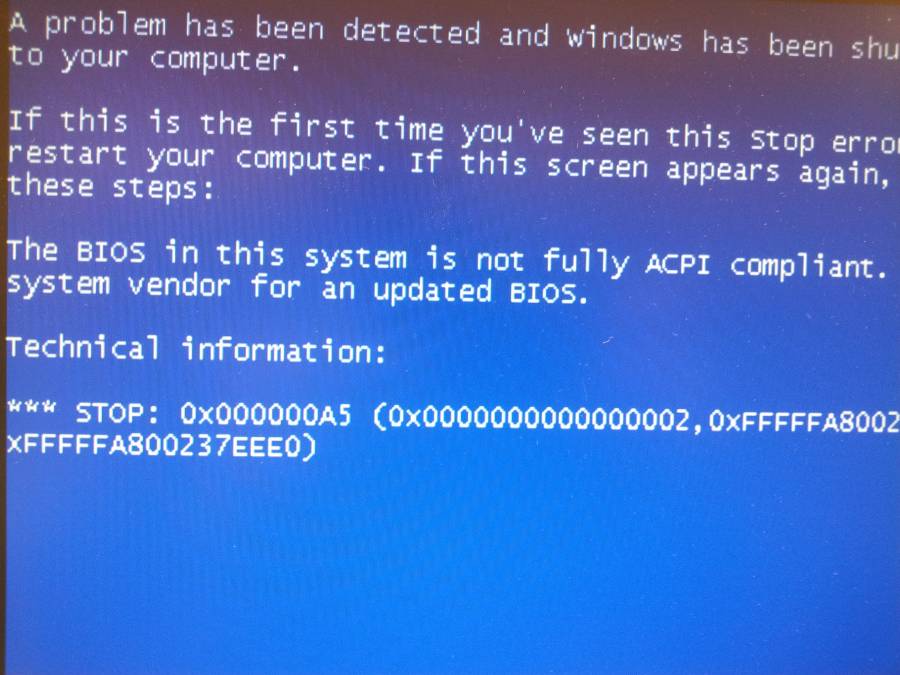 It usually results in sudden system shut down or your system may reboot unexpectedly. Blue error codes like 0x000000A5 are the most serious and dangerous kinds of errors Windows can experience
Cause of Stop Error 0x000000a5
Incorrectly configured, old, or corrupted device drivers.
Corruption in Windows registry from a recent software change.
Driver conflict after installing new hardware.
Due to memory (RAM) corruption.
When Stop Error 0x000000a5 Occur while Running Windows Setup
Solution
Shutdown computer. Press NOVO button, then press Arrow down key to select BIOS Setup and hit the Enter key.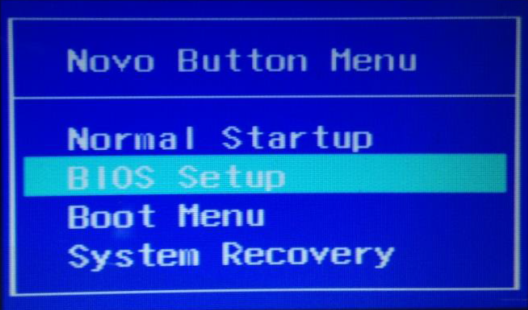 If the BIOS version is lower than A7CN27WW, please update BIOS to A7CN48WW or above. You can download the latest BIOS from here. Copy a7cn48ww_32.exe to the root path of your FAT32 format USB disk. Try to boot to your USB disk via Novo button or press F12 while booting. Click a7cn48ww_32.exe to upgrade BIOS to A7CN48WW.
Switch to Exit page. Select OS Optimized Defaults and set to Win7 OS.
Select Load Default Settings and select Yes.
Press arrow key to switch to Configuration Select USB Mode and set to USB 2.0. After Windows 7 installation, please upgrade USB 3.0 driver and change back USB Mode value.
Press arrow key to switch to Exit page. Select Exit Saving Changes option and select Yes to save the changes.
When Lenovo LOGO appears, press "Fn+F12" to enter Boot Manager menu, select the USB key / ODD to setup Windows 7.
Fixing Error Code 0x000000a5 When System Shutdown Suddenly
Method 1: Try Different RAM
If possible, borrow another RAM from a friend of yours or ask for a spare RAM from a local dealer just for checking purpose. It might be the case where your motherboard isn't compatible with your RAM and getting another RAM may fix the issue.
Method 2: Boost in Last Known Good Configuration
This should be the first thing that you should try, as it is the easiest and most effective solution to fix the Stop error 0X00000024. Follow the steps below:
Restart the computer.
Wait for the computer to complete the POST process (system information appearing on your screen).
Quickly press the F8 key repeatedly until you see a list of boot options available.
Choose Last Known Good Configuration (your most recent settings that worked).
Press Enter
Wait for your computer boot into this mode.
See if the error still exists or not. If you still face the error try the next method.
Method 3: Repair your Registry to Fix Corrupted Files
Filee corruption issues may also cause error 0x000000a5. Due to which, you can fix it by repairing your registry. The quickest way to do that is by using the System File Checker command in Command Prompt:
Go to Start and type "cmd", right-click Command Prompt and select Run as Administrator.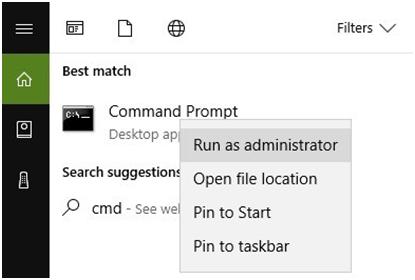 Now type the sfc /scannow

Wait for the scanning process to complete and then restart your computer. All corrupted files will be replaced on reboot.