If you see this error message: 'The application was not able to start properly' it's most likely because you're trying to run a game or program and there's something not correct. Usually this happens after you update from an earlier version of Windows and something fails with specific documents or programs. This error mainly emerges as a result of jumbling of a 32-bit environment with 64 bit one. When a Windows user tries to run any kind of application or game designed for a 64-bit system on their 32-bit windows system the 0xc000007b error suddenly shows up and prevents the individual from performing their jobs.
Error code 0xc000007b is a Windows error message not specific to a single Application. This error code usually occurs because of lack or damage of some system or application files. Various other factors for this error consist of: interrupted installation of updates, improper shutdown of the pc or deletion of programs directly from the installation folder.
Method to Fix Error 0xc000007b
Method 1: Restart and Re-install
Restart your computer and try launching the application. If the error is still appearing, proceed with the next steps.
Uninstall the application that is unable to run due to the error.
Turn OFF the antivirus program temporarily and re-install the application.
Check your PC for viruses or other threats using the antivirus software and then run the application. Afterwards, turn ON the antivirus program.
Method 2: Install or Repair the Latest Version of .NET Framework
Click "Start" button to select Control Panel and click Programs and Features.
Click "Turn Windows features on or off" item on the left panel. The "Windows Features" window pops up.
On the "Windows Features" window find and click .NET Framework 3.5 and press OK. Then it will start downloading and installation.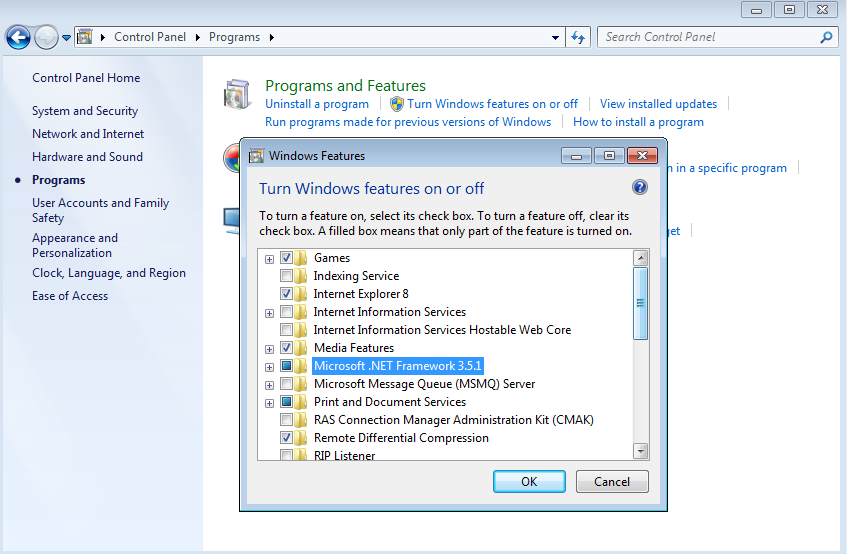 Restart computer and check whether this error is fixed.
Method 3: Run as Administrator
Right click on the Application you want to run. Then click on "Properties".
Now switch to the Compatibility tab. Then check the Run this program as an administrator box.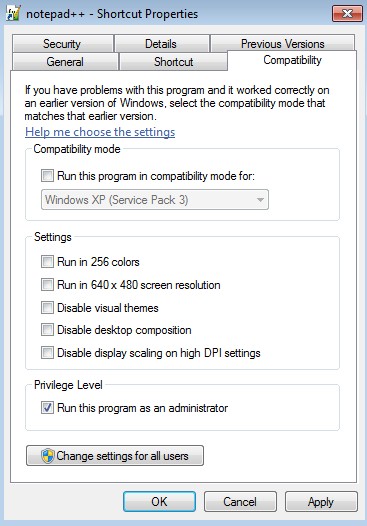 Finally click on OK to save the settings and run the application.
Method 4: Reinstall Microsoft Visual C++ Redistributable Packages
Microsoft Visual C++ Redistributable Package is a runtime component necessary for running of multiple applications.
Click "Start" button and select "Control Panel"
Open Programs and Features.
Uninstall all items with the name of "Microsoft Visual C++ 2*** Redistributable".
Go to Microsoft to download and install Visual C++ Redistributable Packages.
Method 5: Check Your Hard Drive
Click on Start menu and type "cmd". Right click Command Prompt in the result and select Run as administrator.
Enter "chkdsk c: /f /r". Follow the instruction to complete the process.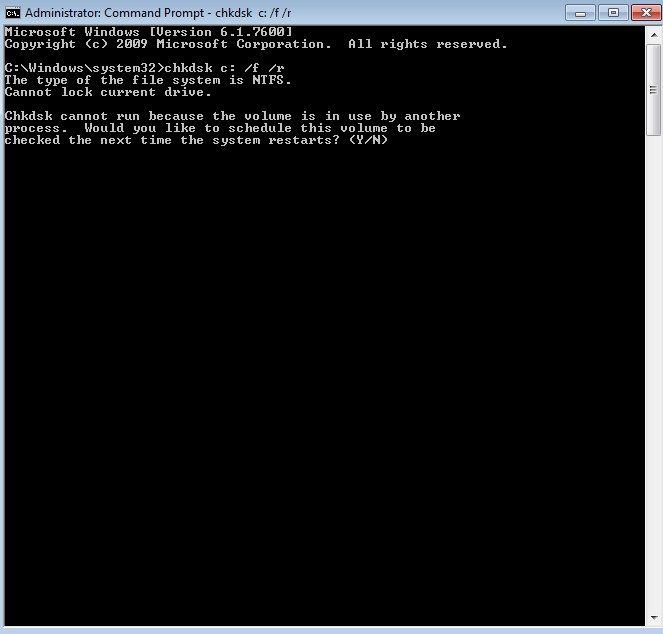 Note: If you need to check another drive, replace "c" with the corresponding letter of that drive.
After that check and see if the problem is solved.