If you see Vulkan RunTime Libraries installed on your computer system and are unsure what it is or how it was installed, do not worry – it is not a virus or malware. Vulkan RunTime Libraries are generally designed by display card manufacturers like NVIDIA or AMD. The issue is, lots of users think that Vulkan RunTime Libraries is a malware and they remove it however it is not a virus. So ensure that it exists on your System.
When Vulkan sets up on users' computer, there is no pop-up window to notify them about its existence. Therefore, when Windows 10 users see Vulkan Runtime Libraries on their list of programs, they fear it's a malicious software application.
What is Vulkan RunTime Libraries
Vulcan is a new graphics standard – something like OpenGL and DirectX. The tool is actually a 3D Graphics API which comes packed with Nvidia driver or AMD. To put it simply, it is utilized for a much better 3D performance in gaming and it features video card drivers. Nvidia installs this program automatically on your PC when you upgrade your video driver. It aims to offer lower overhead, more direct command over the GPU and lower CPU usage. You can compare it with Direct3D if it helps with the understanding. Some mentioned that it might be needed ultimately in new games or graphical applications.
After reading this post, you may wish to check if your PC has this installed. To do so, go to the Control Panel of your PC and click on Uninstall a Program. Scroll down the list of programs and see if there is a tool called Vulcan Runtime Libraries.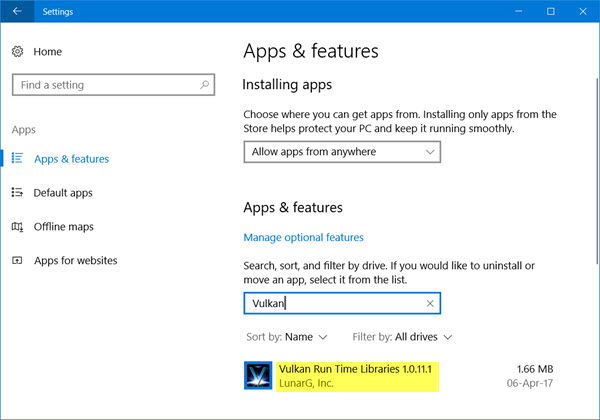 Should I Remove Vulkan RunTime Libraries
You must understand that not all games work with Vulkan, and if you make sure that no games in your PC use Vulkan, you might uninstall it as you like. You might not even detect a difference in your gaming experience if your games aren't using Vulkan. However, if there are games on your computer that require Vulkan for the best performance, you will certainly feel the decrease in quality.
But note that VulkanRun Time Libraries can not be manually installed after you remove it from your os. You have to install the most recent version of the graphics adapter driver which ships with Vulkan to obtain it back.
Since Vulkan is a rather new API, there are very few games that support it. The most popular games with support for the Vulcan rendering API are Quake, Dota 2, GRID Autosport, Doom, Mad Max, Warhammer 40,00: Dawn of War III, F1 2017, Wolfenstein II: The New Colossus, Serious Sam Fusion 2017, and Rise of the Tomb Raider. It likewise supports latest games, so if you want to play these, leave Vulkan Run Time Libraries installed.