The sounds produced by closure of valves of the heart are best heard not directly over the location of valve but at regions situated some distance far from the valve in the direction of blood flow via them.
The pulmonary, aortic, mitral, and tricuspid valves are located posterior to the sternum on an oblique line joining the 3rd left costal cartilage to the 6th right costal cartilage.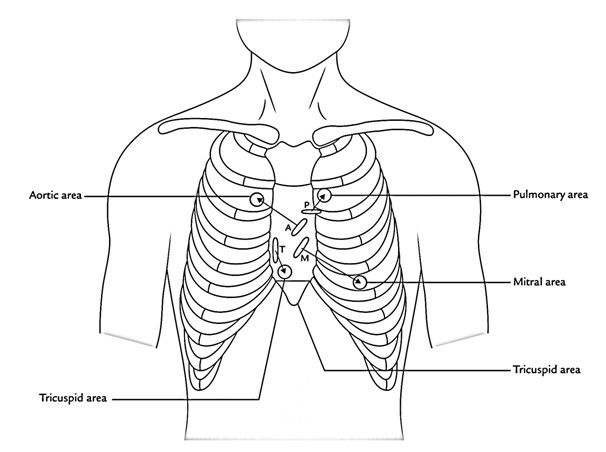 Blood tends to carry the sound in the direction of its flow, consequently auscultatory area lies superficial to the vessel or chamber via which the blood enters and is in direct line together with the valve orifice.
Surface Markings Of The Cardiac Valves And The Sites Of Their Auscultatory Regions
| Valve | Surface marking | Site of auscultator area |
| --- | --- | --- |
| Pulmonary valve | A horizontal line (2.5 cm long) behind the medial end left 3rd costal cartilage and adjoining part of the sternum | Second left intercostal space near the sternum |
| Aortic valve | A lightly oblique line (2.5 cm long) behind the left half of the sternum opposite the 3rd intercostal space | Second right intercostal space near the sternum |
| Mitral valve | An oblique line (3 cm long) behind the left half of the sternum opposite the left 4th costal cartilage | Left 5th intercostal space 3U inches (9 cm) from midline, i.e., over apex beat |
| Tricuspid valve | Nearly vertical oblique line (4 cm long) behind the right half of the sternum opposite the 4th and 5th intercostal spaces | Right half of the lower end of the body of the sternum |