Many users are experiencing ERR_NETWORK_CHANGED error while browsing net in Google Chrome. You may encounter error message: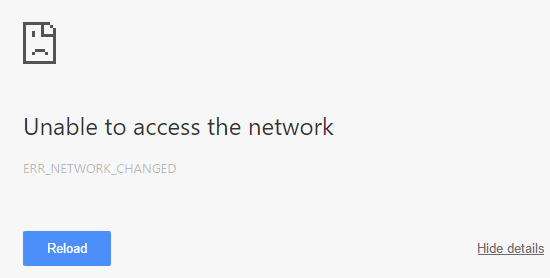 "Unable to access the network" ERR_NETWORK_CHANGED or "Your connection was interrupted. A network change was detected." ERR_NETWORK_CHANGED
The error message clearly indicates that Chrome is Unable to access the network and hence the error. One of the reason reason causing this error to appear is related to a third party software installed on the PC causing the conflict with the internet connectivity.
Methods to Fix ERR_NETWORK_CHANGED
Method 1: Restart your modem
Sometimes just restarting your modem can fix this issue as the network might have experienced some technical problem which can only be solved by restarting your modem.
Method 2: Reset Tcp/Ip
In the search box, type cmd

In the results, right-click Command Prompt and select Run as Administrator.

Inside the Command Prompt, paste the following command:
netsh int ip reset c:\resetlog.txt
Or if you don't want to assign a directory path for the log file, copy and paste the following command instead:
netsh int ip reset
After pasting the command, press Enter.

Restart your computer.

Go back to what you were doing and check if you've removed the tcpip.sys blue screen error.
Method 3: Clear Browser Cookies & Cache Data
Open Google Chrome and type

chrome://settings/cookies

in the search bar and hit

Enter

.

Now click the

Remove all

and then click

Done

button.

Now check all the options in the box then click on the

Clear browsing data.

Close the Google Chrome browser and re-open the browser for checking the error.
Method 4: Lan Settings
In Chrome click on the

More

Options menu and choose

Settings

.

Go to

Show advanced settings.

Go to

Network

section and click on

Change proxy settings

.

Click on

LAN

settings in connections tab.

Uncheck the box that said

Automatically detect setti

ngs.

Uncheck

Use a proxy server for your LAN

and click

OK

.
Method 5: Delete WLAN Profiles
Press

Windows + X

and choose

Command Prompt (Run as Administrator).

Type

netsh wlan show profiles.

Type the following command and remove all wifi profiles:
netsh wlan delete profile name="[PROFILE NAME]"
Do this for all the wifi profiles, and then reconnect to only your wifi.
Method 6: Reinstall Network Adapter
Press

Windows + X

and choose

Device Manager.

Expand

Network adapter

s dialog. Then right-click on your network adapter software and click

Uninstall

device.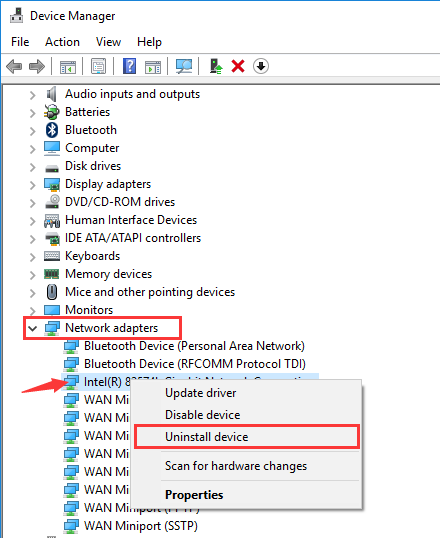 Restart your Windows 10 and Microsoft might reinstall the driver for you.
Method 7: Change DNS
Right click on the network option which you will see on the bottom right corner of your screen and select Open

Network and Sharing Center.

Click on the internet connection you are using.

Click on Properties.

Double-click on Internet Protocol Version 4 (TCP/IPv4) to change the DNS server.

Click on Use the following DNS server addresses:and set the values as follows in the dialog box:
Preferred DNS server: 8.8.8.8
Alternate DNS server: 8.8.4.4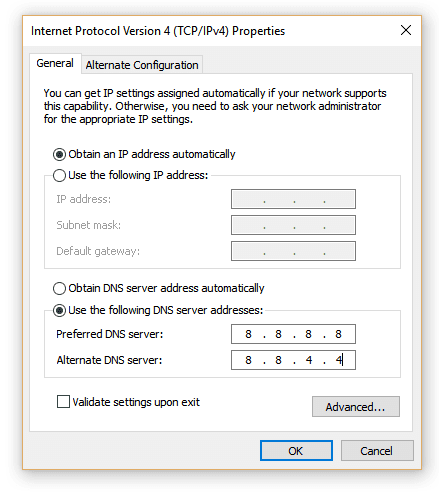 Press OK and exit.