Lately, users are noticing some problems with Google Chrome. They have not been loading pages correctly and giving the webpage error: ERR_QUIC_PROTOCOL_ERROR.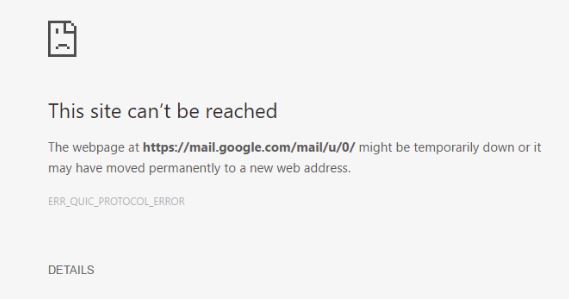 Sometimes the message: "The app is currently unreachable" or "This web page is not available" also appears when using Google docs and in some cases Google search.
Google Chrome currently, is using quite a few experimental features that sometimes may become quite unstable.
One of these features is QUIC (Quick UDP Internet Connections) protocol and even though it was designed to speed up secure internet browsing, on practice it seems to be causing connection issues on some Chrome installations.
Methods to fix ERR_QUIC_PROTOCOL_ERROR
Method 1: Disable Web Browser Extensions
Open Google Chrome and click on the Menu (three horizontal lines at the right top corner);
Select More Tools and click on the Extensions.
Here you have to remove the ticks that are shown aside the apps;
By removing the ticks, you will disable web browser's extensions;
After that, click on Remove and Disable the link given under the plug-in.
Restart Chrome to see if the problem is fixed.
Method 2: Disable Experimental QUIC protocol
Open Google Chrome;
In the address bar of the new tab window, type chrome://flags/and press Enter.
Don't get dismayed at a warning message that says Careful, this experiment may bite. Once you see it, click Ctrl + F simultaneously to open the search box;
TypeExperimental QUIC protocol in it and select Disable from the drop-down menu.
Restart Chrome to see if the problem is fixed.
Method 3: Check Windows Firewall or Local Proxy Settings
Go to Start -> Control Panel -> Internet Options;
When a pop-up window shows up, click on the Connection and select LAN settings;
If there are some problems with the connection, you will have to fix them in order to remove ERR_QUIC_PROTOCOL_ERROR error.