If you receive the error 0x80070002 when you are trying to update your Windows, this article will provide you with the methods to overcome this issue. Error Code 0x80070002 is a very common Windows error which you may encounter using any version of Windows OS.
In most of the cases error code 0x80070002 is seen while upgrading from Windows 7 or Windows 8 to Windows 10. The error mostly appears with error messages which differs for Windows versions. For example, you may get the message "Error(s) found: Code 80070002 Windows Update encountered an unknown problem" if your computer runs Windows 8/7/vista; as to Windows XP computers, the message will be "A problem is preventing Windows from accurately checking the license for this computer. Error code: 0x80070002."
Causes of Error 0x80070002
Incorrect time settings on your computer.
A stopped Windows update service on your computer.
The drive letter of system partition has been modified.
Unsteady internet connection.
Method 1: Ensure that your Computer's Date and Time are Correct
If time or date is incorrect, it'll have bad effect on Windows update service and it's necessary to check settings of date and time first when you get the error, which is quite easy.
Click on the "Date and Time" in the lower right corner
In the pop up window, click on "Change date and time settings".
Press "Change date and time" to ensure that you have setup the correct date/time/year in your computer.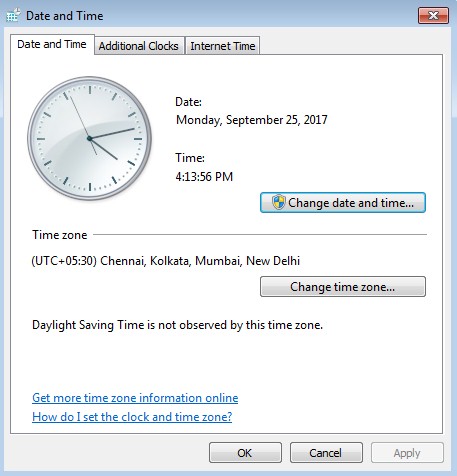 When finished with date/time, press "Change time zone" to ensure that you have the proper time zone.
Now restart and the computer and try to update.
Method 2: Install Pending Updates
Check to see if there are any pending updates to install them.
Click "Start".
Type "Update" in search box before hitting Enter.
Look for any uninstalled update(s) on the resultant Windows Update dialogue box that appears. Right-click on each to update the same.
Try accessing Windows Update and now search for new updates for installation.
Method 3: Restart Wuauserv and Rename SoftwareDistribution
Press the Windows key on your keyboard and type in cmd. Right-click the result and choose Run as administrator.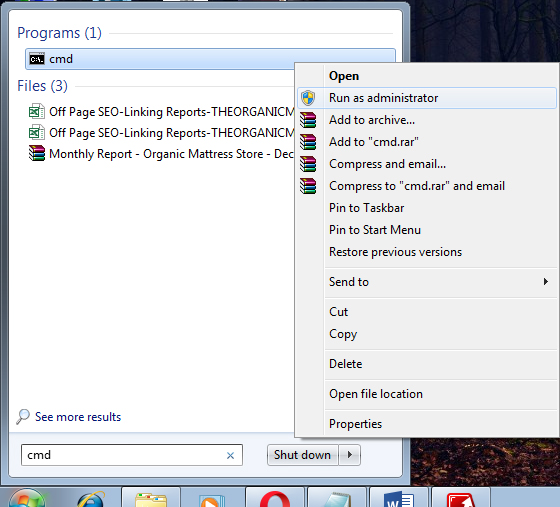 Type in the following commands, but make sure not to make a mistake in typing as they have to be typed in exactly as they're written here.
net stop wuauserv
ren %systemroot%\SoftwareDistribution
softwaredistribution.old
net start wuauserv
exit
After the commands are done executing, try to run the updates downloader again.
Method 4: Remove Windows update files
If you get 0x80070002 error because of failed system update process, which means some files are corrupted. Hence, we should delete those files and try Windows update once again.
Click "Start" button and select "Control Panel". Type "Administrative Tools" in the search box and press Enter.
On the pop-up windows find and double-click "Service". If you are asked to provide administrator password or confirmation, type password and give confirmation.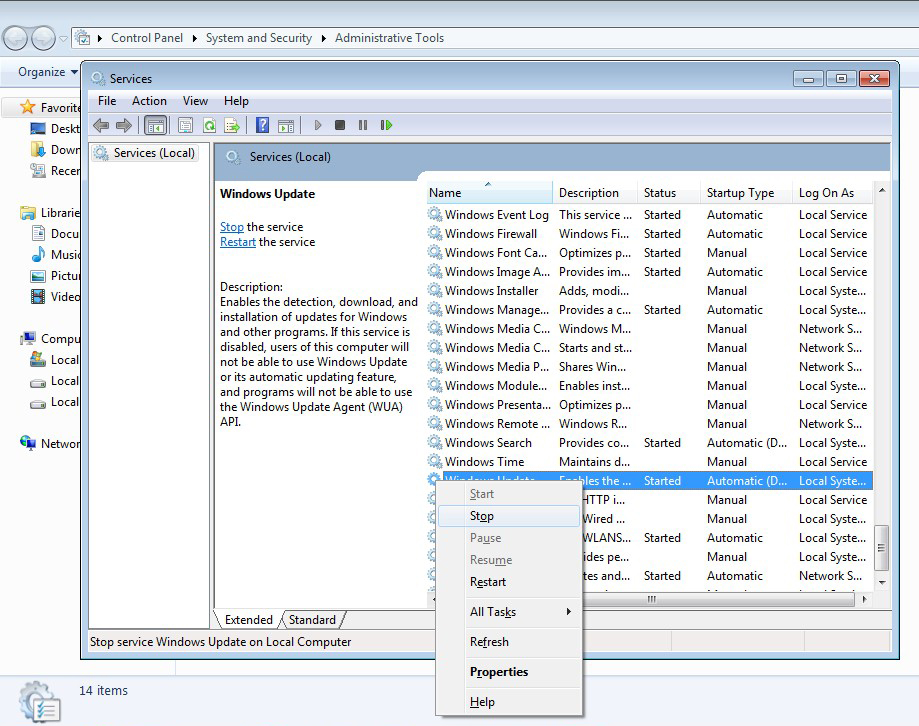 Click the tab "Name" to sort items alphabetically, after which you can find out Windows Update service easily. Right-click it and select Stop. For Windows XP users, please find out Automatic Updates and right-click it to select Stop.
Method 5: Disable Third Party Firewalls
Try disabling any third party firewalls running on your system temporarily until the updates are installed.
Right click the Antivirus/Firewall icon from the system tray
Choose Disable or Stop