There are several errors which we ignore on a daily basis as they seem to create no problem for us, but in the long run they might be a menace for the user. Here we're going to talk about Error 0x800705b4 which is one of the most common errors Windows users face. To ignore this error is almost equal to inviting the problems that might slow down your PC or may lead to repetitive crashing while you're working on your system.
Windows Update Error Code 0x800705b4
Microsoft Windows provides its users with an upgradation service called Windows Update (WU) which allows a user to download the update officially released by Microsoft for the betterment of the Operating System. Usually Windows Update fixes bugs and lags that are common and reported by many users all around the globe. It also updates the PC to minimize the vulnerability against malware and security exploits.
Not quite often, but once in a while error code 0x800705b4 appears on the Windows Update screen and looks similar to the image below: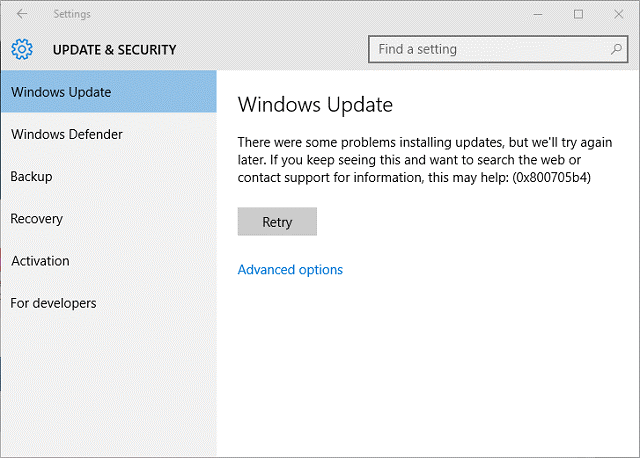 Possible reasons for the error?
Damaged Windows system files or system corrupted
Operating system failed to update by itself
Registry error
Attack by Virus or malware
The update service is not configured as automatic update
Solutions
Method 1
Just ensure that the Windows Firewall is turned on and in case you have any third party antivirus and firewall, just disable for a while and then check if the problem still exist.
Method 2: Run a sfc scan for system
It is a good choice to run a sfc scan when you have no idea what's wrong with your PC. An easy to use tool with no cost attached to it and makes it easier to fix some of the most common errors. It helps user to find out corrupted files and fix them. And we all are aware of the fact that the system won't perform well once a system file gets damaged or lost.
If you are asked to provide administrator password or confirmation from UAC, enter password and click Allow.
The process of scanning all protected system files and fixing corrupted files begins; do not close Command Prompt before the process is done. If Windows Resource Protection didn't find any integrity violations you'll get following messages:
Windows Resource Protection could not perform the requested operation.
Windows Resource Protection found corrupt files and successfully repaired them.
Windows Resource Protection found corrupt files but was unable to fix some of them.
Method 3
Type services.msc in run dialog box (Win+R) and press enter.
Locate Windows Defender service in the services list in services window.
Verify that the Status is started. If the Status column is blank, right click on the service and select Start.
Change the startup type to Automatic if you face problem to force start the Windows Defender service and then restart your computer.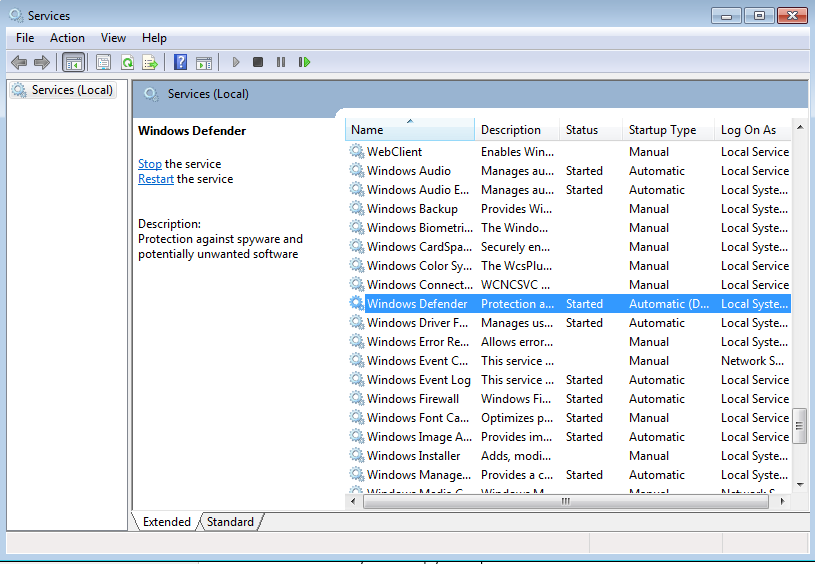 5.Then try downloading a Windows Update and check if you're still facing the issue.
Method 4
System Restore is another option one can opt to fix these kind if errors. But before restoring your system make sure you back up your important data.
For doing this, just type System Restore in the search panel and click on system restore and do as the pop up screen ask you to do.
Method 5: For Windows 10 user
Some of the solutions that might work for you:
Windows Update Troubleshooter. Provided for free by Windows itself and quite effective tool to work with. You just have to follow the on-screen instructions and that might help you out with the errors.
Retry the Update after disabling firewall or any third party anti malware software.
Disconnect any devices like USB flash drives, printers or webcams that are not essential and then try again.
Windows Defender error 0x800705b4
The error code 0x800705b4 forces Windows Defender to crash or stop which again creates a great problem for the user. Error message usually seen is "Windows Defender couldn't turn on real-time protection. This operation returned because the timeout period expired. Click Help for more information about the problem. Error code: 0x800705b4".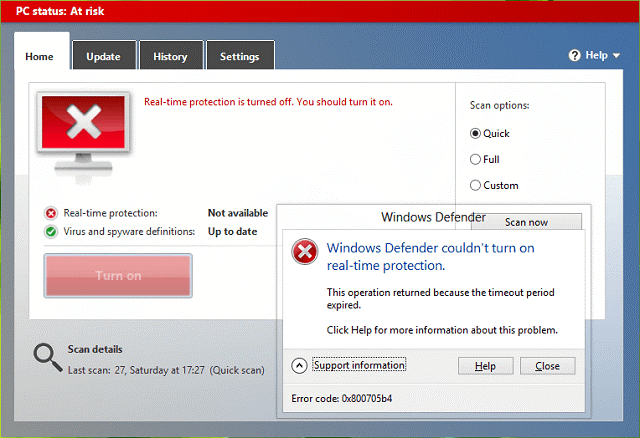 Reason for the error?
Might be because you have installed a third party anti malware software which might not be compatible with the Windows Defender creating a conflict between these two and leading to error.
Some virus or malware attacks makes it difficult for the system to use the tool.
Drivers might be outdated, Registry files could be missing or corrupted due to which the settings of the Windows might get lost.
There are two ways that can help you out with this error.
Disable the third party anti malware software so that the two of these cannot create a conflict.
Use Registry Editor to find and reinstall the corrupted, damaged or lost file.