The 500 Internal Server Error is a very general HTTP status code which indicates there is some problem with the website's server, but the server is not precise enough to make the problem clear.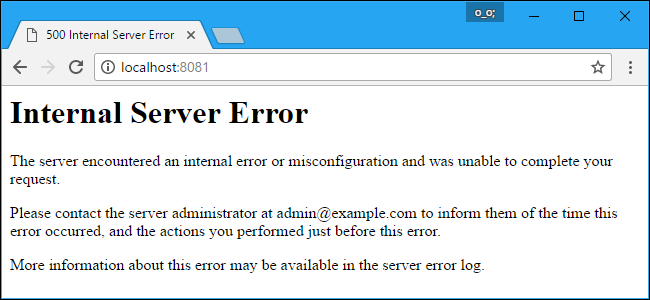 Different messages that show up as 500 Error
500 Internal Server Error
HTTP 500 – Internal Server Error
Temporary Error (500)
Internal Server Error
HTTP 500 Internal Error
500 Error
HTTP Error 500
That's an error
Methods to fix 500 Internal Server Error
Usually, this error has two ends, one is the user's end and another one is the developer's end. So, we will suggest the fixes for both the ends. You're good to go.
Fix 500 Internal Server Error (User's End)
The easiest and the simplest way to get the website working is by reloading the web page. You can do that by clicking the refresh/reload button, pressing F5 or Ctrl-R, or trying the URL again from the address bar.
Troubleshoot as a 504 Gateway Timeout error instead.It's not very common, but some servers produce a 500 Internal Server Error when actually it should have displayed 504 Gateway Timeout message based on the cause of the problem.
Delete your browser's cookies. Some 500 Internal Server Error issues can be corrected by deleting the cookies associated with the site you're getting the error on.
Clearing your browser's cache is another way to get rid of this situation. If there's a problem with the cached version of the page you're viewing, you're more likely to face HTTP 500 errors.
Another option is to Contact the website directly. Generally, the site's administrators are well aware of the 500 error, but if you suspect they don't, letting them know helps both you and them (and everyone else).
Fix 500 Internal Server Error (Developer's End)
The difficulty to carry out the fixes mentioned below is medium. So, if you have an intermediate level of knowledge about servers, you can get your hands on these fixes.
Method 1: Check for the error with a .htaccess file
If you are using a .htaccess on your site, it may be interfering with the web page you are trying to load into your browser. Please double check the .htaccess configuration. Any syntax errors will cause a 500 Internal Server Error message to be displayed instead of your website.
To confirm whether a misconfiguration .htaccess is the cause of the 500 Internal Server error, either remove or rename the .htaccess file temporarily and then try to reload the page.
Method 2: Check the error logs
With any error message, particularly one as broad as the 500 Internal Server Error, you will first want to check any Apache and PHP error logs for your server. These logs can provide valuable context related to any code failures or other potential causes of a site failure.
Method 3: Syntax and coding error in your CGI /PERL Script
If it is a web page ending in .cgi or .pl that is producing the error, check your script for errors.
Method 4: Php coding time-out
If your PHP script makes external network connections, the connections may time out. If too many connections are attempted and timeout, this will cause a "500 Internal Server Error." To prevent these timeouts and errors, you'll want to make sure that PHP scripts be coded with some timeout rules. Typically, however, catching a timeout error when connecting to a database or externally to remote resources (example: RSS feeds) are difficult. They, in effect, freeze the script from continuing to run.
Removing any external connections can increase both the performance of your website and decrease the chances of you receiving a "500 Internal Server Error."