Listening to your favourite playlist or watching a movie that you love and suddenly the sound vanishes. And then a message appears "audio services not responding". Yes, a huge disappointment. This happens when you audio driver is outdated and needs an update. Now that we know why the problem occurs, let's head towards the solutions to fix it.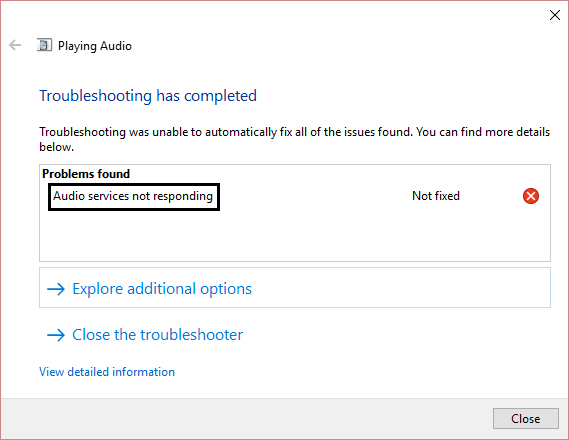 Methods to fix Audio Services not Responding
Method 1: Start Windows Audio Services
Press Windows + R key, type services.msc and press Enter to open Windows services list.

Now look for the services mentioned below:
Windows Audio
Windows Audio Endpoint Builder
Plug and Play

Ensure that the Startup Type is set to Automatic and the services are Running. Restart all of them once again.

If Startup Type is not set to Automatic, double-click the services and set them to Automatic in the properties window.

Make sure the above services are checked in msconfig.exe




6. Restart your computer to apply these changes.
Method 2: Start Windows Audio Components
Press Windows + R keys simultaneously, type services.msc and press Enter to open Windows services list.

Look for Windows Audio service and open its properties by double-clicking.

Go to Dependencies tab and expand the components listed in "This service depends on the following system components."

Now make sure all the components listed above are Started and Running in the services.msc

Finally, restart the Windows Audio services and Reboot to apply changes.
Method 3: Uninstall and Re-install the device driver
Press Windows + R to open Run dialog box.
Type devmgmt.msc and hit Enter.
In the Device Manager window locate Sound, video and game controllers.
Expand Sound, video and game controllers category and right click on your audio device and select Uninstall.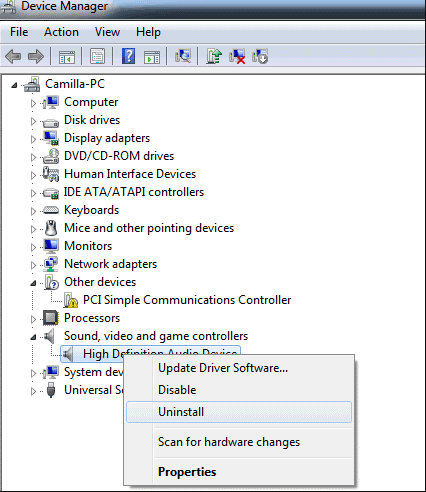 Restart your pc, then Windows will automatically install the sound driver.
Method 4: Restore the registry key from Antivirus
Find the virus vault in your anti-malware app and open it.
Right click on Norton Security which can be seen in the system tray and click "View Recent History."

Now select "Quarantine" from the drop-down.

Inside Quarantine or virus vault, search for the Audio device or services that are quarantined.
Look for registry key: HKEY_LOCAL_MACHINE\SYSTEM\CURRENTCONTROLand if the registry key ends in:
AUDIOSRV.DLL
AUDIOENDPOINTBUILDER.DLL
Restore them and Restart to apply changes.
Method 5: Use Windows troubleshooter
Search by typing "troubleshooting" in the control panel.
You'll see "Troubleshooting" in the results, click it and select Hardware and Sound.

In the subsequent window, inside Sound sub-category, click on "Playing Audio".

Select Advanced Options in the Playing Audio window and check "Apply repairs automatically" and click Next.

Troubleshooter will diagnose the issue by itself and ask you whether to apply the fix or not.
Click Apply this fix and Reboot to apply changes.