Sometimes when you plug a USB drive in the USB port a pop-up error appears on computer screen saying Power surge on the USB port. This error message usually occurs in Windows OS. Power surge on the USB port can also occur when you have already plugged in the device and the device stops working displaying error Power surge on the USB port.
The full error message appearing on the screen is as follows: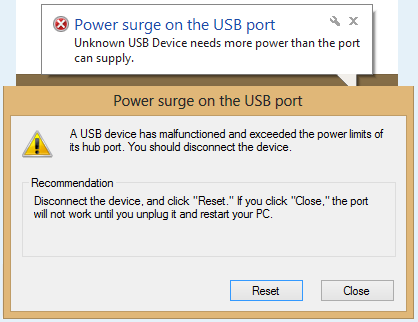 Power surge on the USB port.
A USB drive has malfunctioned and exceeded the power limits of its hub port. You should disconnect the device.
Read Also: BCD Error Code 0xc0000225
Methods to Solve Power Surge on the USB Port
Run Hardware Troubleshooter
Type troubleshoot in the search box and select Troubleshooting from the results.
Click on Hardware and Devices in the right pane.
Click on Run as administrator.
To complete the process follow the on-screen steps.
Reinstall USB driver
Press Windows + X and select Device Manager.
In the Device manager window expand Universal Serial Bus controller.
Right click on each USB controller one by one and select Uninstall device.
Restart the computer. Windows will automatically install the missing drivers.
Try connecting your USB drive and check if Power surge on the USB port error still exists.
Check Power Supply and USB Connections
Check you power supply and root USB connections. Try changing the power supply if you are using a low power supply.
You may also like: Computer restarting automatically Fixed