Error code 0x80080005 is common amongst windows user. It can happen in Windows 7, 8 or 10. The error 0x80080005 will indicate your computer system is not valid or cannot download and install pending updates.
Windows performance and security greatly depend upon the updates. Nevertheless, even if you wished to skip updates, it's not possible because Windows Update is required. This suggests the abundance of error codes you will experience in the update process are inescapable. Particularly error 0x80080005 arises while aiming to install updates, in some cases it may also appear in Windows store also.
Causes of Error 0x80080005
Virus or malware infection that has corrupted Windows system files or Microsoft Security Essentials-related program files.
Another program maliciously or mistakenly deleted Microsoft Security Essentials-related files.
When upgrading the system from windows 8.1 to 10.
Internal application conflict.
Methods to Fix Error 0x80080005
Method 1: Deactivate Antivirus Software
Before activating Windows Update service, turn your anti-virus off. No matter if you are using Windows Defender or a third-party anti-virus. Disable it for a time and only then try to look for Windows Updates. If anti-virus is not the culprit of the 0x80080005 error, make sure to enable it. Do not let the PC unprotected.
Do not forget to enable the anti-virus after all.
Method 2: Manually Reset the Security Descriptors of the BITS Service
Click on the Start Menu button to open the WinX Menu.
Click on Command Prompt (Admin) in the WinX Menu to launch an elevated Command Prompt.
One by one, type the following commands into the elevated Command Prompt, pressing Enter after typing in each one and waiting for one command to be successfully executed before typing in the next one:
net stop wuauserv
net stop cryptSvc
net stop bits
net stop msiserver
ren C:\Windows\SoftwareDistribution SoftwareDistribution.old
ren C:\Windows\System32\catroot2 catroot2.old
net start wuauserv
net start cryptSvc
net start bits
net start msiserver
pause
Close the elevated Command Prompt.
Restart your computer.
Method 3: Run Windows Update Troubleshooter
Press Windows key + I to open Settings.
Now open Updates & Security section on the left pane.
Click Troubleshoot.
Click Windows Update and select Run troubleshooter.
Method 4: Run Disk Cleanup (cleanmgr)
Open Command Prompt with administrative access.
Type "cleanmgr" and hit ENTER.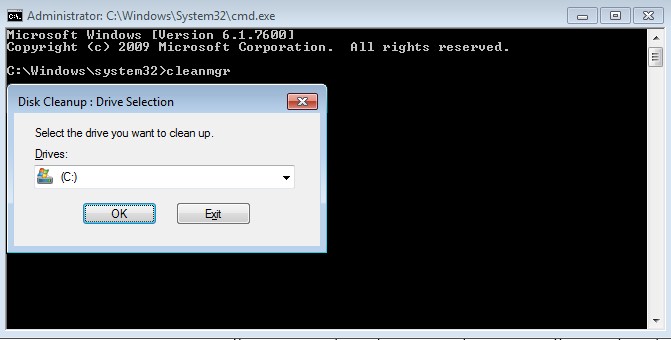 Disk Cleanup will begin calculating how much occupied disk space you can reclaim.
The Disk Cleanup dialog box will appear with series of checkboxes you can select. In most cases, the "Temporary Files" category will occupy the most disk space.
Check the boxes of the categories you want to clean and click OK.
Method 5: Initialize Background intelligent Transfer Service (BITS)
Go to the control panel and search for the Administrative tools.
Next, you can click on Services to find Background Intelligent Transfer Service from the list. Once you have found the service, right-click to display the Properties.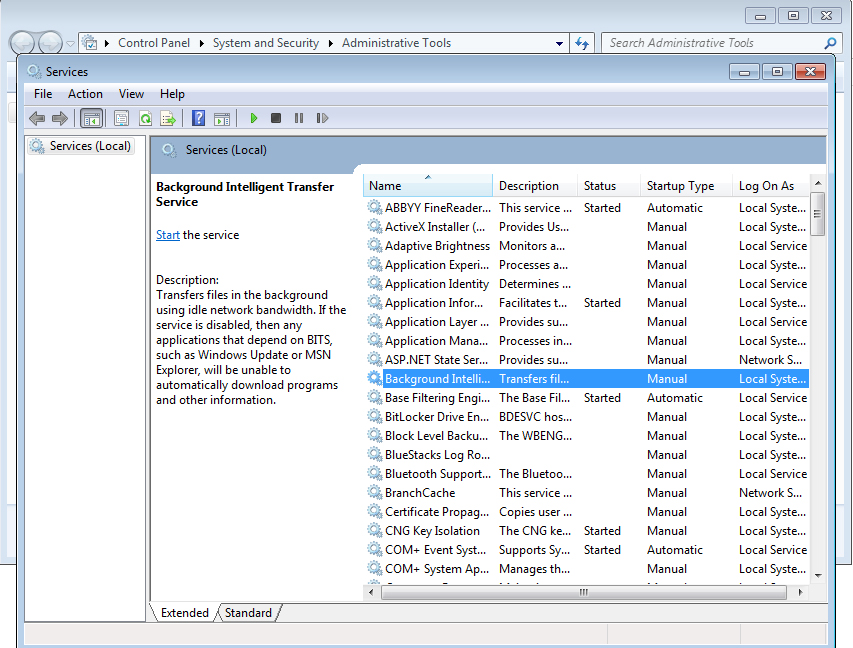 Go to the general tab and then select Automatic (delayed start) as the startup type. You can then click on start to initialize the service.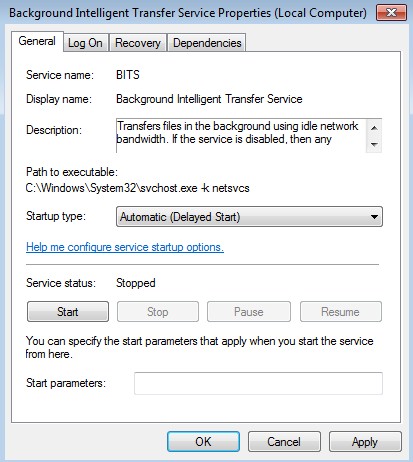 Changing BITS Startup Type to Automatic may fix error code 0x80080005 for you