Descriptively, following are the four parts of the upper limb:
Shoulder.
Arm or brachium.
Forearm or antebrachium.
Hand.
The shoulder region includes:
 Axilla or armpit
 Scapular region or parts around the scapula (shoulder blade)
 Pectoral or breast region on the front of the chest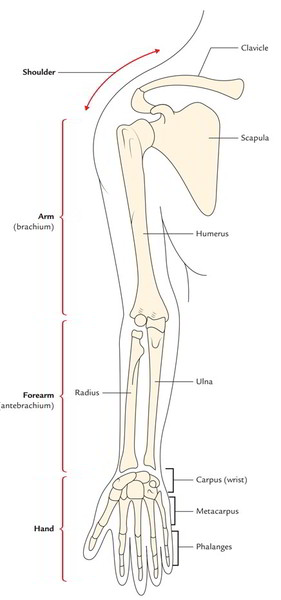 The clavicle (collar bone) and the scapula (shoulder blade) are the bones of the shoulder region. At the acromioclavicular joint they articulate with each other forming the shoulder girdle. The shoulder girdle and the remaining parts of the body skeleton articulates with each other at the small sternoclavicular joint only.
The arm is the part of the upper limb between the shoulder and elbow (or cubitus). The bone of the arm is humerus, which articulates with the scapula at the shoulder joint and upper ends of radius and ulna at the elbow joint.
The forearm is the part of the upper limb between the elbow and the wrist. The bones of the forearm are radius and ulna. These bones articulate with humerus at the elbow joint and with each other forming radio-ulnar joints.
The hand (or manus) consists of the following parts:
Wrist or carpus
Hand proper (or metacarpus)
Digits (thumb and fingers)
The wrist consists of eight carpal bones arranged in two rows, each consisting of four bones. The carpal bones articulate (a) with each other at intercarpal joints, (b) proximally with radius forming radio-carpal wrist joint, and (c) distally with metacarpal bones at carpometacarpal joints.
Part
Subdivisions
Bones
Joints
Shoulder region
Arm
Humerus
Shoulder
Forearm
Hand

Wrist/radio-carpal
Intercarpal

Carpometacarpal
Intermetacarpal

Metacarpophalangeal
Proximal and distal interphalangeal
The hand proper consists of five metacarpal bones numbered one to five from lateral to medial side in anatomical position. They articulate (a) proximally with distal row of carpal bones forming carpometacarpal joints, (b) with each other forming intermetacarpal joints, and (c) distally with proximal phalanges forming metacarpophalangeal joints.
The digits are five and numbered 1 to 5 from lateral to medial side. The first digit is called thumb and remaining four digits are fingers. Each digit is supported by three short long bones—the phalanges except thumb, which is supported by only two phalanges. The phalanges form metacarpophalangeal joints with metacarpals and interphalangeal joints with one another. The first carpometacarpal joint has a separate joint cavity hence movements of thumb are much more free than that of any digit/finger.
The functional value of thumb is immense. For example, in grasping, the functional value of thumb is equal to other four digits/fingers. Therefore, loss of thumb alone is as disabling as the loss of all four fingers.